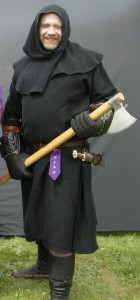 I weep great tears for you though I wish I could shed all the tears that you deserve.

Goodbye my friend and brother. The cloister is dimmed without you. From your thundering voice sprang many tales. Your powerful arms drove home many stakes that were driven too deep to pull. Though I know thy face did not always smile I cannot now picture it otherwise. Good night Brother Grimnir. May the Valkyries carry you home and keep you until we might all meet again.

Brother

Zealot

Storyteller

Wielder of Balpeenjoir

Rest in Peace

- Zealous Apostle Anton
On August 4th, at 4:45pm, our friend, household member and brother, Kevin Rigdon (aka Grimnir) passed from this earth, slain by the many-tentacled beast known as Pancreatic Cancer. With his strength and mighty constituion he battled the beast for months, though it had done him a grievous blow even before he knew he was in a battle. But Kevin was always a fighter and so he fought to his very last breath, surrounded by family and with the love and support of his many friends.
We have set up a virutal memorial
here
. If you have contributions, send them to eden (at) edenceleste.com. Kevin, we will dearly miss you.